News Item
NEWS ITEM
Echidna On Display at Civenex 2010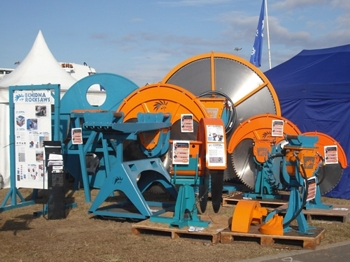 Echidna put up a striking display of its diamond tipped rock saws designed for excavators.
The displayed range included the established range of single blade rock saws covering excavators from 1.5 tonne to 45 tonne (D2 to D6 models).
Also on display were the stump grinder attachment on D3 machine (4-12 tonne) and Echidna's newest development - the high speed D4HS.
The D4HS runs at a much higher speed than standard diamond tipped rock saws, making it ideal for cutting steel reinforced concrete, asphalt and road works. This is the first excavator mounted alternative to "walk behind" road saws or concrete saws.
The other innovation on display was the easy conversion from single to multi blade saw, which can be applied to the entire Echidna rock saw range. The conversion allows cutting of trenches or slabs from 20mm width up to 500mm width.