News Item
NEWS ITEM
Echidna Diamond Rocksaws at ConExpo, Las Vegas USA, March 2011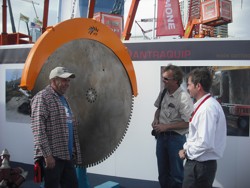 Thanks to Antraquip Corporation, Echidna has made its debut at ConExpo in Las Vegas.
Our exclusive US distributor, Antraquip Corporation, have introduced Echidna diamond rocksaws to the wide North American audience.
On their stand at ConExpo in March 2011, they showed a D3, D4HS and D5 diamond rocksaws which drew substantial interest from visitors.
This kind of equipment is largely unknown in the USA and Canada, and Antraquip Corporation were the only company to exhibit diamond tipped rocksaws for use with excavators, at ConExpo.
The enquiries ranged from a curious "What is this?" to very excited "We could use this for our project!". These projects ranged from the quarrying and road works, right up to shaping of large sculptures and there were some good ideas to further expand our already wide product range.
Besides the machines exhibited at ConExpo, Antraquip Corporation now has a substantial number of diamond rock saws in their stock, up to the D6 size suited to 45 tonne excavators.
Antraquip Corporation has presented a very nice display and a great deal of professionalism, and we thank them for their efforts.