News Item
NEWS ITEM
Echidna Exhibitions - Intermat , Civenex and Mokra, CR in 2012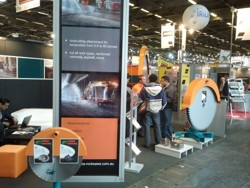 In April, Echidna diamond rocksaws made its debut appearance in Europe with a stand at Intermat Exhibition in Paris.
With a range of rocksaws and stump grinders suitable for excavators from 1 to 30 tonnes on display, Echidna stood out in the crowd with its technology previously unknown in Europe.
Most visitors to the stand were excited by the range of applications to which the rocksaws can be applied, and were quick to think of ways in which they could be applied to their own operations which included quarrying, demolition, construction, shop fitout, tunneling, and landscaping.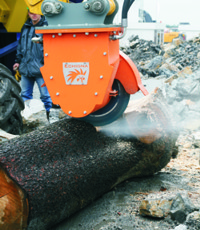 Quickly following on the heels of the Intermat exhibition, Echidna was exhibiting at Civenex 2012 (Sydney, Australia). Although attendance at the exhibition was down from previous years, we were glad to welcome new faces to our stand as well as some old ones, bringing ideas for products and applications, some of which we hope to launch this year. Look out for new Echidna earthmoving equipment over the coming months!
In June, Echidna diamond blade rock saws and stump grinders were put to the test at the Expo Mokra exhibition in Czech Republic. Showcasing the D4HP with 1200mm diamond blade on Menzimuk excavator, the rocksaws made short work of carving up hard limestone and reinforced concrete blocks in front of an admiring crowd. With a product so new to the European market, visitors were amazed and delighted by the performance of our saws, and while they may not have doubted our claims of cutting speeds, seeing is believing.
If you missed seeing us, look out for more exhibitions and demonstrations, including Bauma in Munich next year.